Of course, there's always the chance of a lucky find at a retail or thrift store …
However, the problem is that even if you manage to find something that fits AND is even remotely close to original colors, the Joker's shirts appeared to be silk, whereas most typical dress shirts are cotton, linen, rayon, polyester, or some combination of these.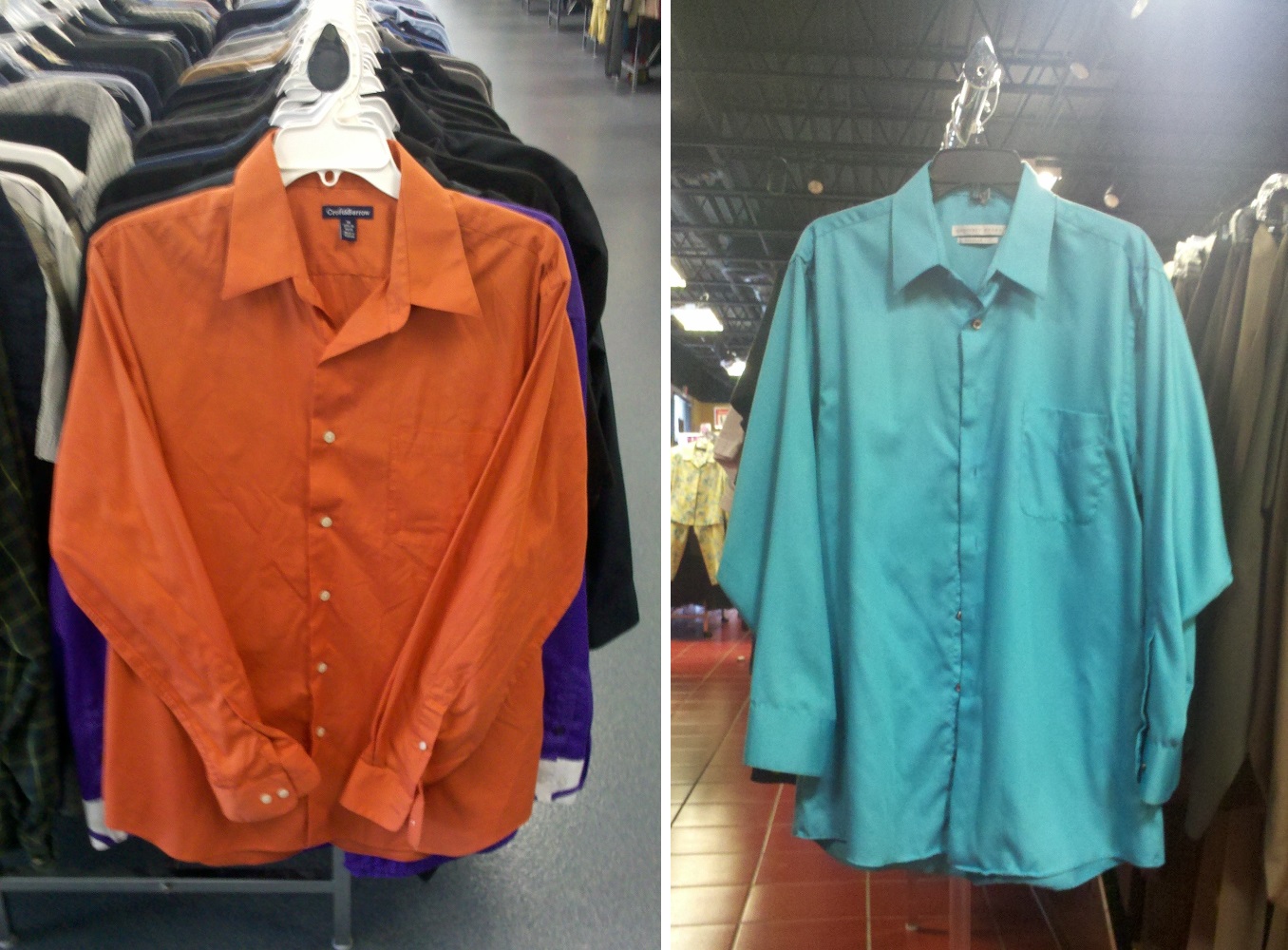 I suppose there are places where one could either buy or commission a silk shirt, but I'm a DIY kind of guy and the local hunt was just a quick fancy.
To adapt the pattern for Joker purposes, a couple modifications needed to be made.
First, the front edge of the pattern needed to be extended to produce a cut-on button/buttonhole panel that folds back on itself (whereas the pattern is originally intended for a separate, sewn-on panel).
And second, the standard sleeve cuffs needed to be swapped out for French cuffs, which also entails adjusting the overall lower sleeve width since with French cuffs the underside of the placket is turned under (thus reducing the sleeve width around the wrist).
I did a quick test of my modified pattern with some cheap-ass poly satin from my local JoAnn, and the results were promising!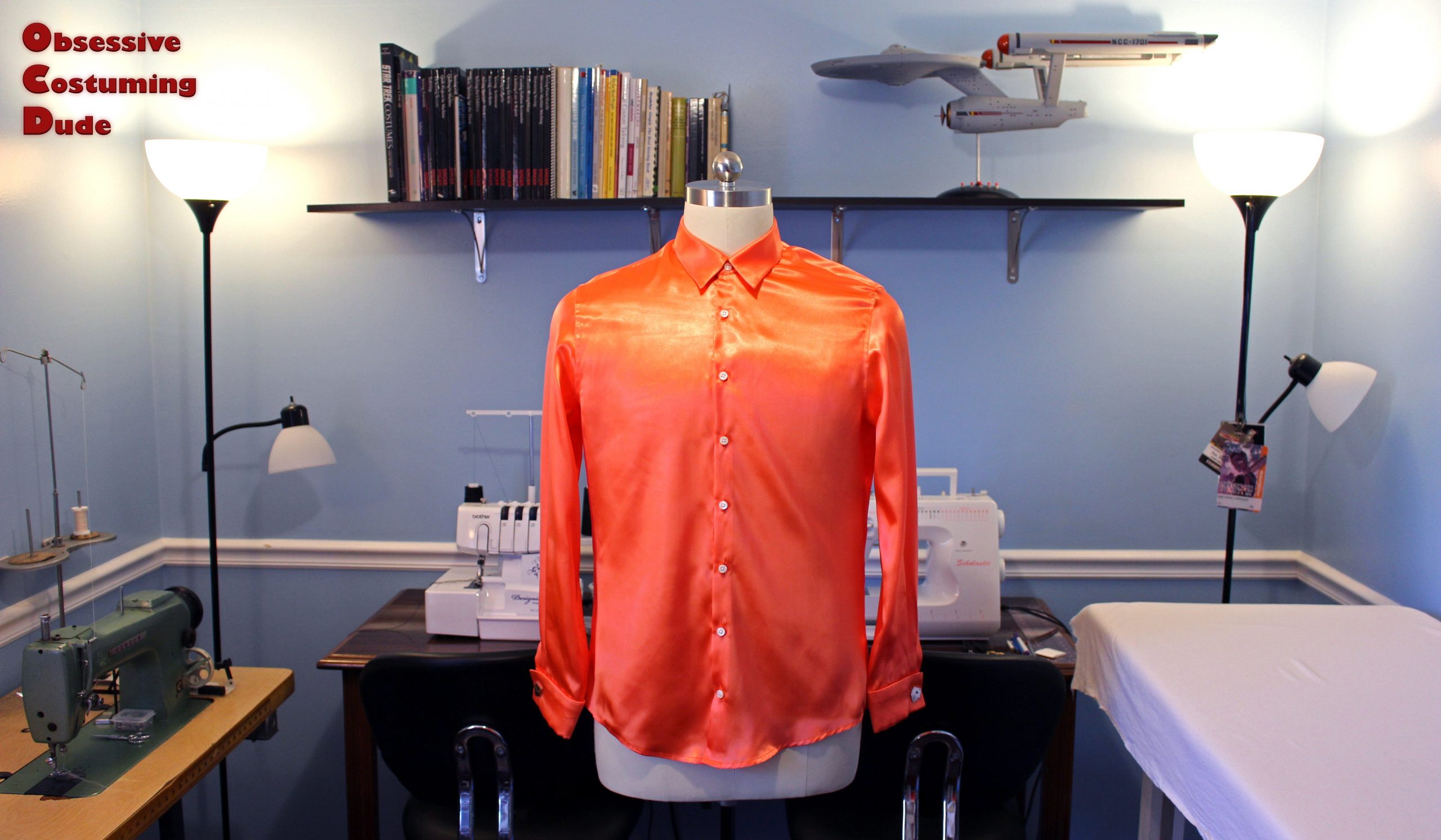 Feel free to skip this section if you don't care about dyeing silk with premixed fiber-reactive and acid dye colors. 🙂
While I'm quite capable of dyeing white silk to a target color with either premixed dyes or custom mixes, I really only wanted to as a last resort.
Silk will take either acid or fiber-reactive dyes, but I dyed over 40 yards of fabric (!) last month for various projects and people and was honestly pretty burned out with that whole song and dance.
Hypothetically, were I to go the dyeing route, I'd start with premixed colors and hope for a good match.
In lieu of anything screen-used to match against, for the orange shirt, I'd probably test the following fiber-reactive colors from Dharma Trading Company:
PRFT19 "Deep Orange"
PR147 "Orange Sorbet"
PR167 "Orange Crush"
For the acid-dyeing route, I'd probably test these colors (also from Dharma):
423 "Blazing Orange"
460 "Saffron Spice"
489 "Monarch Orange"
445 "Tangelo"
Pro Chemical and Dye has some promising color candidates, too … MX2204 "Soft Orange" for fiber-reactive, as well as both WF199c "Golden Yellow" and WF232 "Orange Peel" for acid dyeing.
For the green shirt, I actually found a great source for pre-dyed fabric (see below), but were that unavailable for some reason, I might try either Dharma's PR153 "Mermaid's Dream" or PR28A "Aqua Marine" (both fiber-reactive dyes).
Their 447 "emerald green" acid dye is also on the table, although that may identical to their pre-dyed silk.
ProChem also has MX7200 "Emerald Green" fiber-reactive dye, and WF733 "Ivy" acid-dye.
Do bear in mind that as of this post, I haven't actually used any of these premixed colors. 
I only suggest these as theoretical options to try, based on their online color chips (which can vary due to monitor/display settings) and their printed color posters (which I've occasionally found to be somewhat broad), so swatch tests would definitely be in order, prior to dyeing any yardage!
You're on your own for custom color mixes, though. 😛
If you're interested in dyeing your own silk and/or learning more about fabric dyeing in general, I'd recommend reading Linda Knutson's highly-informative book, Synthetic Dyes for Natural Fibers.
I was originally only planning to make the orange shirt, but I found myself unable to resist the impulse to make the green one as well (to the surprise of no one, least of all my wife).
Dharma Trading Company offers some lovely silk charmeuse in a nice range of colors – three of which had nice Joker potential!
Unfortunately, their "Teal green" proved too dark for the Joker's green shirt, and their "Persimmon" looks too pale and yellow to my eye for the orange shirt.
However, their "Emerald Green" makes for a terrific Joker green shirt!
Below is a photo of the aforementioned colors, along with the fabric I wound up using for my orange shirt.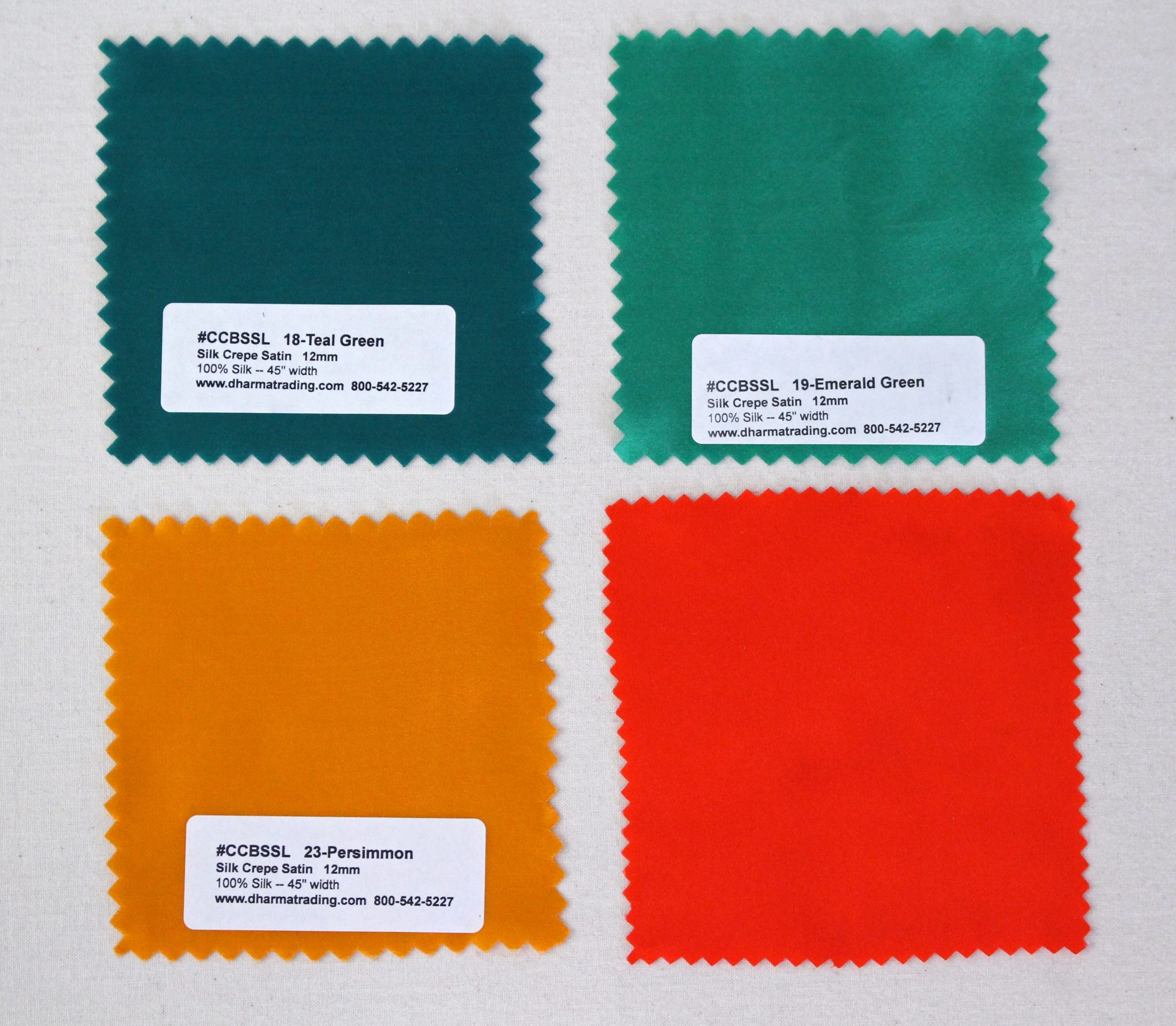 The lower right was a lucky fabric find (also silk charmeuse) from Gail K Fabrics in Atlanta, GA a few years ago.
It's perhaps a little too "warm" (red) and "loud" (saturated), but it looks better in-person and (in my opinion) made for a nice Joker shirt – and I didn't have to dye it, which is always a plus!
There are probably numerous other sources for pre-dyed silk online (or locally, if you live in a big city), but these are the two I wound up using, and like I said, I'm very happy with how they turned out.
To be blunt, silk charmeuse can be a challenge to cut, and a bitch to sew.
But goodness, it is a satisfying finished product and feels luxurious against the skin!
The cutting challenge is that the fabric wants to slide around, making it difficult to cut the exact shape of the pattern pieces.
Pinning the paper to the fabric doesn't help much (in terms of overall stability), and even sharp tailor's chalk catches and slightly shifts the fabric when tracing the pieces.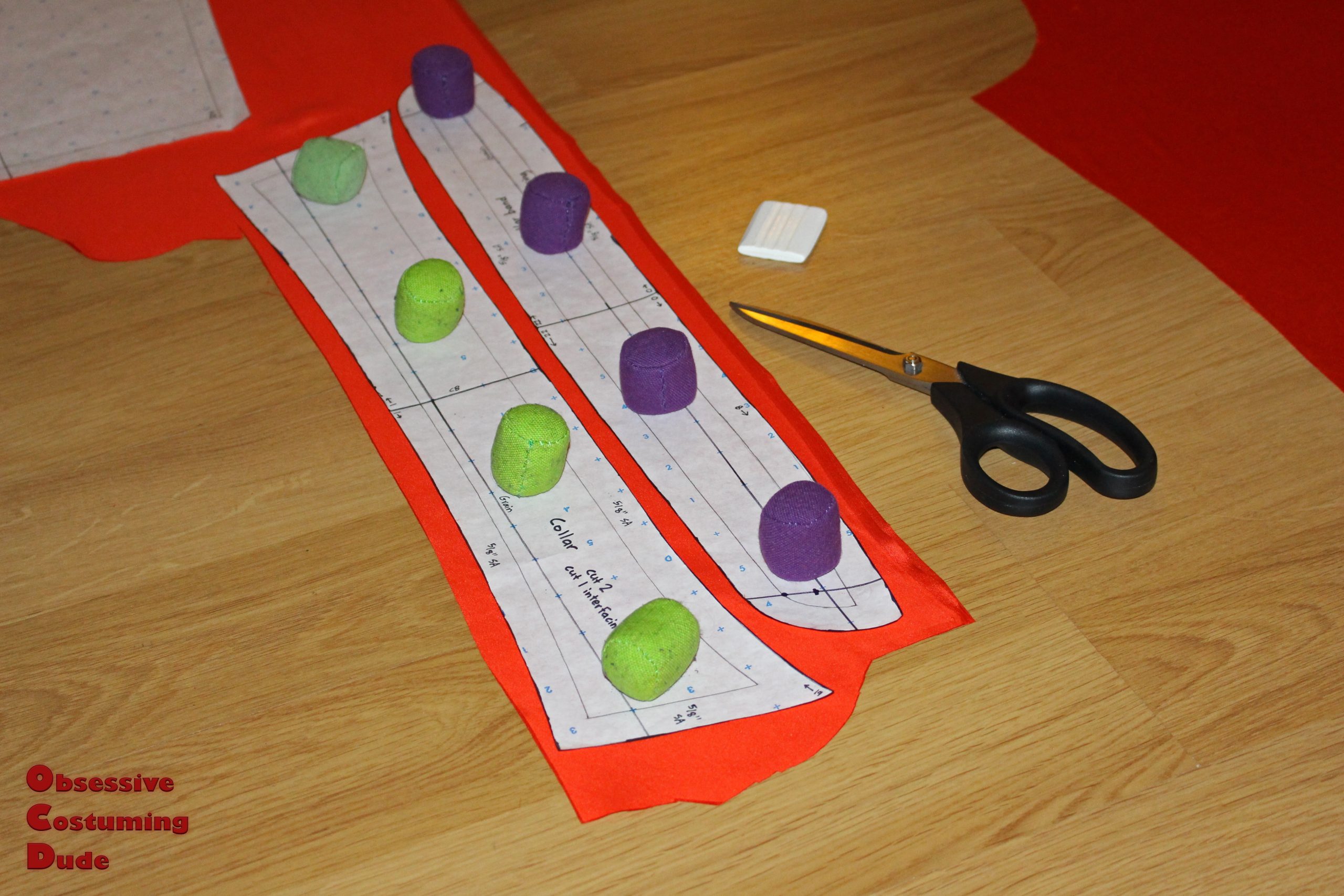 With patience, I managed in the end.
The key is to just take your time and cut VERY carefully!
Actually sewing silk charmeuse can be quite an experience … and not really in a good way.
Basically, it can be difficult to control because of how slippery it is, so you have to pin the hell out of it, using the wicked super-sharp pins that hurt like a mofo when you accidentally jab yourself.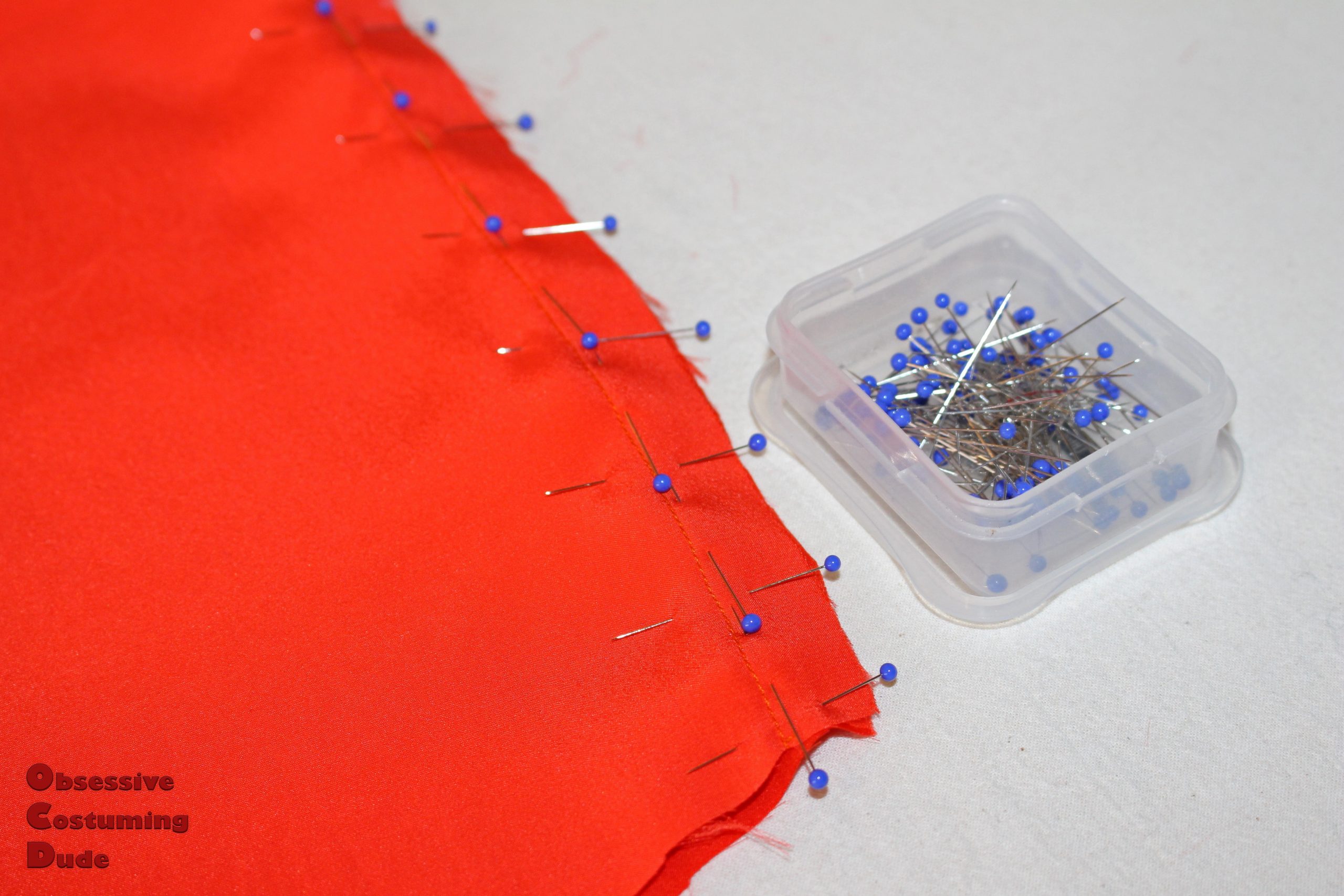 All that is part of why I "warmed up" with a poly satin test; I found the poly satin to actually be a bit more difficult to control than the silk charmeuse. So practicing with a more challenging fabric made the real deal seem more manageable by comparison.
And damn if it wasn't exciting to watch it come together!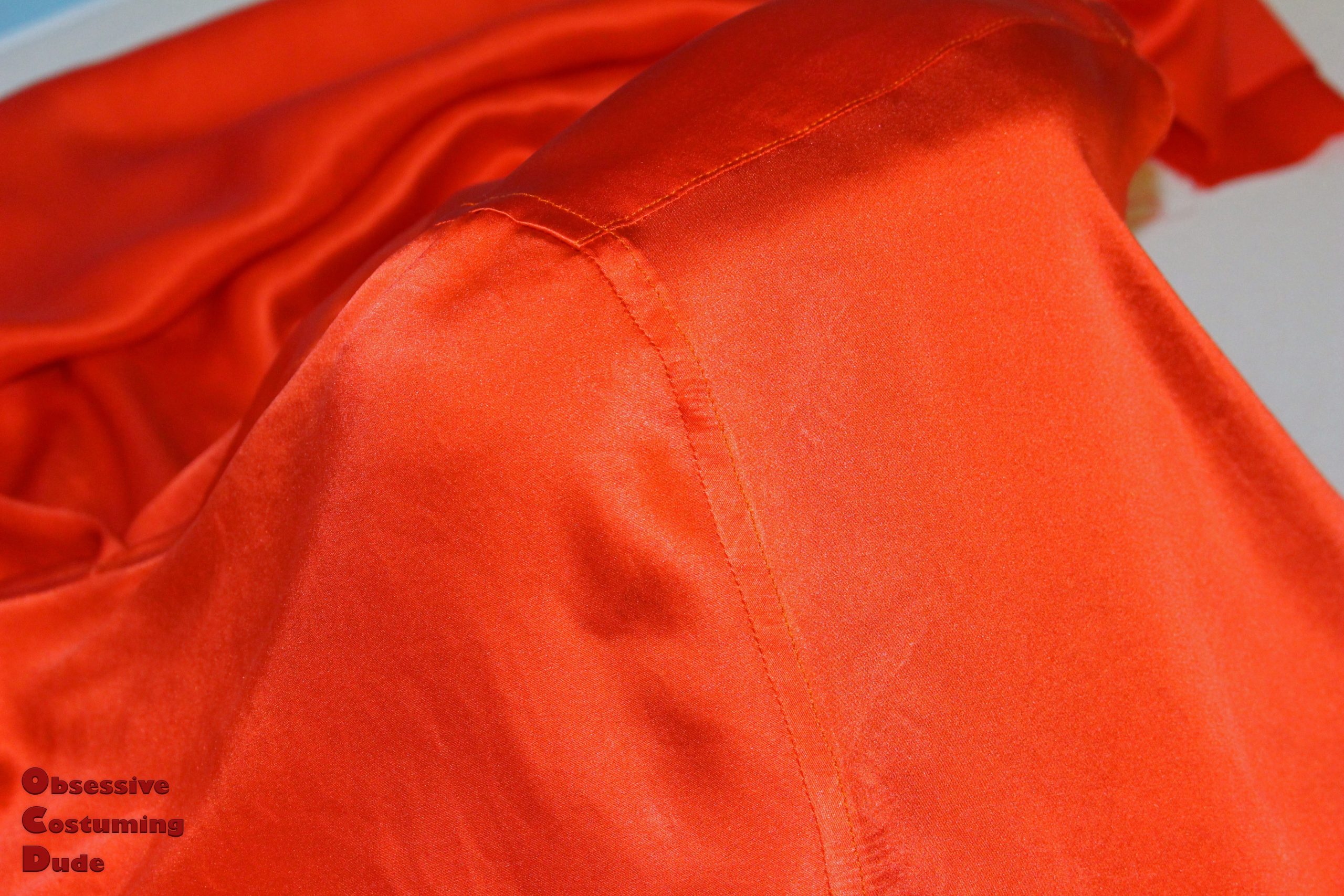 Of course, no proper Joker shirt is complete without a pair of "playing card" cufflinks …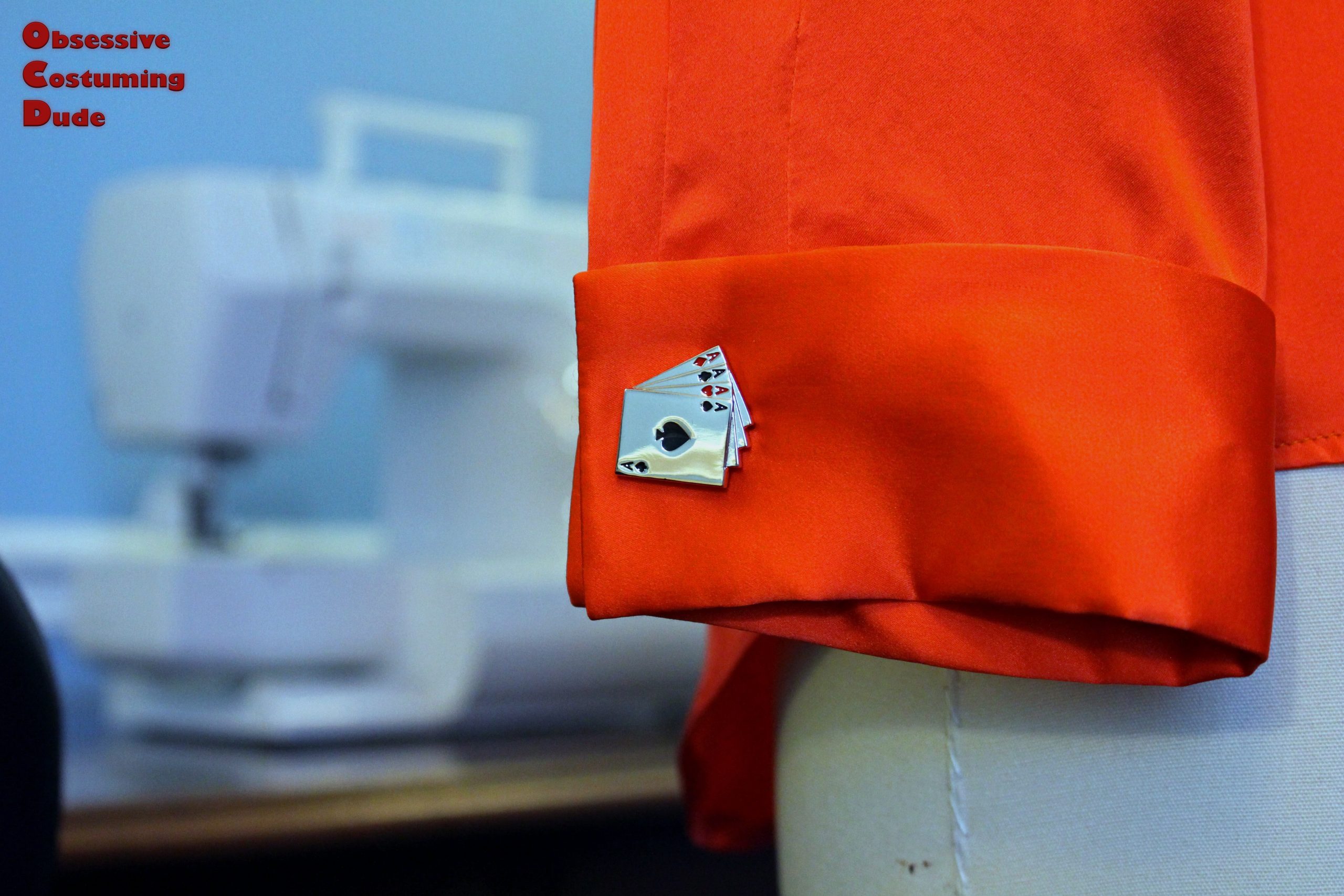 As of the time of this post, it appears that shop is on break and not accepting orders, but it appears similar (perhaps identical) cufflinks are also available from the Etsy shop "SwagUp":
https://www.etsy.com/listing/233296482/on-sale-four-aces-poker-steel-las-vegas
As you can see, they're a terrific (albeit not quite perfect) match to the originals, and in my opinion, they're excellent for Joker purposes. 🙂